Boracay Island is a small island located in the Western Visayas region of the Philippines. It is one of the country's most popular tourist destinations, known for its beautiful white sandy beaches, crystal-clear waters, and vibrant nightlife.
Boracay Island is just seven kilometers long and one kilometer wide, but it is packed with fun-filled activities and amazing sights. The island's main attraction is its beaches.
White Beach is the most famous of them all, stretching for four kilometers and lined with coconut trees. It is divided into three sections: Station 1, Station 2, and Station 3.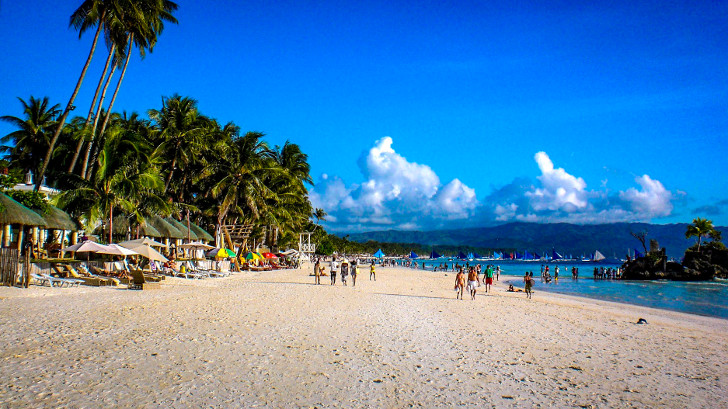 The famous White Beach on Boracay Island, Philippines
Station 1 is the most upscale area, with luxurious resorts and restaurants.
Station 2 is the busiest part of the beach, with a wide range of shops, restaurants, and bars.
Station 3 is the most laid-back and peaceful part of the beach, perfect for those who want to relax and unwind.
Aside from White Beach, Boracay Island also has other beautiful beaches worth exploring. Puka Beach is a more secluded beach located at the northern end of the island. It is known for its clear turquoise waters and fine white sand mixed with small pieces of puka shells.
Diniwid Beach is another hidden gem, nestled between two cliffs and surrounded by lush greenery. It is a quieter alternative to the bustling White Beach.
Water activities are also a popular attraction on Boracay Island. The crystal-clear waters of the island offer a perfect playground for snorkeling, diving, and island hopping. The island is home to many dive shops offering courses for both beginners and experienced divers. Visitors can explore the vibrant marine life and coral gardens that thrive in the waters surrounding the island.
Boracay Island's nightlife is also a must-see attraction. The island is famous for its beach parties and lively bars. Visitors can enjoy a cold drink while listening to live music or dancing the night away. Many bars and restaurants offer happy hour promos and drink specials, making it easy to party on a budget.
In addition to its beaches and nightlife, Boracay Island also has many other attractions worth exploring. Mount Luho is the highest point on the island, offering a panoramic view of the island's beaches and surrounding waters.
The Boracay Butterfly Garden is a peaceful sanctuary where visitors can admire various species of butterflies, as well as other insects and animals.
Getting to Boracay Island is easy. Visitors can take a flight from Manila or Cebu to the nearby island of Panay, then take a ferry to Boracay Island.
Alternatively, visitors can take a direct flight from Manila to the island's Caticlan Airport, followed by a short boat ride to Boracay Island.
Boracay Island may be small, but it is packed with unforgettable experiences. From its pristine beaches to its vibrant nightlife, there is something for everyone on this paradise island. So pack your bags, put on your sunscreen, and get ready for an unforgettable adventure on Boracay Island!
Boracay is also a paradise for SCUBA Divers and Snorkelers. There are plenty of dive sites around the island, for beginners as well as for advanced divers. Most of the dive sites are just in front of White Beach, so it takes only a few minutes to get there.