Boracay Island is just one out of more than 7000 Islands in the Philippines and belongs to the group of the Visaya Islands. It is about 6 km long and only 1 km wide but stands for some of the most beautiful and famous beaches in the Philippine archipelago.
Boracay Closure!
According to an order of the Philippine President on 04.04.2018, the whole island of Boracay should be closed for tourism for 6 months. The order should come into force on April 26, 2018. This is going to be a challenge for all business people on Boracay, the tourists who want to go there and the airlines, who now have to cancel more than 100 flights a day.
Update: Hotels & Accomodation are available again from Oct. 1st 2018 at booking.com [read more]
Tourists from all over the world come to Boracay for their most important weeks of the year.
The famous White Beach on Boracay's West Coast, is probably the most beautiful beach on the island. It was even selected by several international travel magazines as one of the 10 most beautiful beaches in the world.
---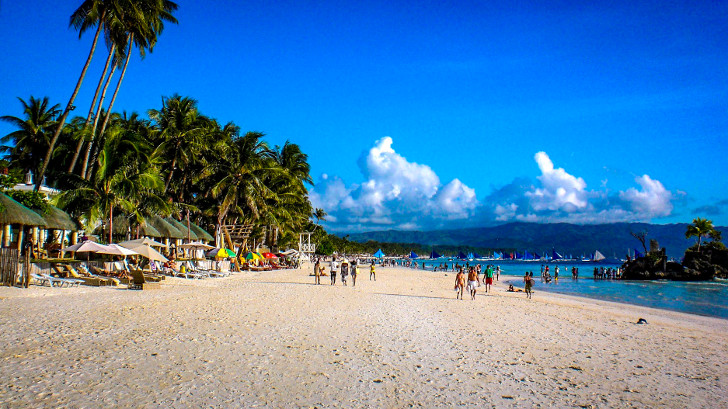 The famous White Beach on Boracay Island, Philippines
Boracay is also a paradise for SCUBA Divers and Snorkelers. There are plenty of dive sites around the island, for beginners as well as for advanced divers. Most of the dive sites are just in front of White Beach, so it takes only a few minutes to get there.
Beside diving, there are several other sports and activities offered along the beach front: How about kite surfing, water ski, para sailing, sunset sailing or a ride on a banana boat? It's all there for you to try out.
This web site is your online guide for Boracay and aims to provide you with important information about the island. Holiday on Boracay, what are you waiting for...?