Boracay Island is one of the few places in the Philippines where the traditional outrigger boats, known as Bankas or Pumb Boats are build as sailboats. In this version they are now called Paraw.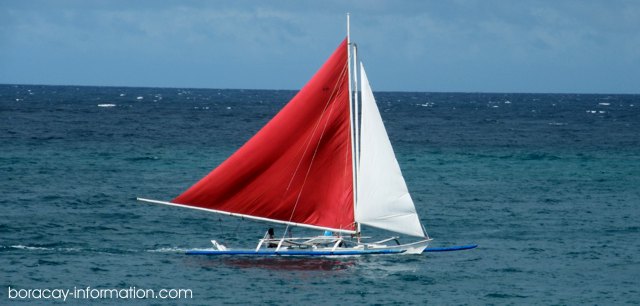 This is a "Paraw" Sailing Boat at Boracay Island, used for Island Hopping and Sunset Cruises
The Paraws are very sleek with not much space on it but travel very fast compared to other sailing boats with a wide body.
Small sailboats of this type, you can rent on Boracay along the beach for private sailing tours with or without a "captain", the larger ones are used for longer sailing trips with more people on board around the island or for Island Hopping.
Island Hopping and a Sunset Cruise by these sailing boats are some of the most popular actvities on Boracay Island.
Two years ago, I built a small Paraw by myself and and it makes a lot of fun, to "fly" over the sea near the coast. So the next time you stay in Boracay, this is certainly a "must do".