The most convenient way getting to Boracay is by airplane. There are domestic flights by smaller planes available directly to the Boracay Airport in Caticlan from Manila or Cebu.
Please note that Boracay has no airport on the island itself. The Boracay Airport is located in Caticlan, which is only a short 15 minutes boat trip away from the island. Please also read the information on Boracay Airport!
Another way to use the plane to Boracay, is a flight to the international airport of Kalibo, which involves an about 1.5 hour trip by bus or van from Kalibo to Caticlan.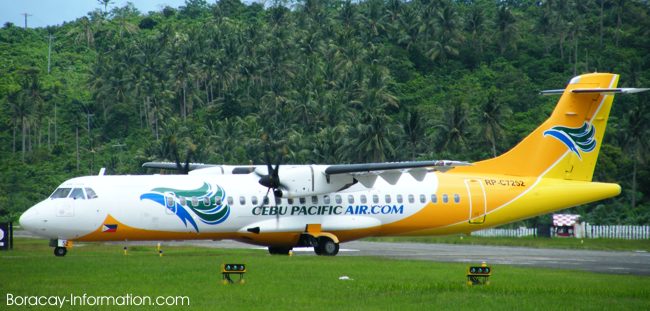 A Cebu Pacific ATR72 at Boracay Airport in Caticlan
The Airport in Kalibo can also serve bigger planes, such as the Airbus A320 or Boeing 737, which are also used on some international flights to and from China, Korea and Taiwan.
Boracay Airport is served only by domestic carriers such as Cebu Pacific, PAL and Air Asia while minternational airlines fly to Kalibo.
Another method, but is probably only of interest for Filipinos, is to travel by car via the Nautical Highway from Manila and Luzon. The car however, you must certainly leave in Caticlan. It can not be taken to the island.