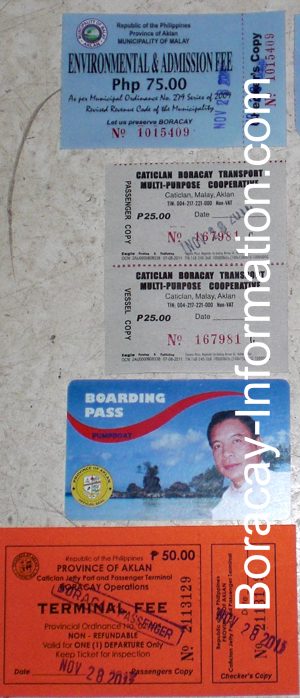 The small airport of Caticlan is just a few hundred meters away from the jetty port in Caticlan and the boat trip over to Boracay takes only about 15 minutes. This can not cost too much in the Philippines, or does it?
Anyone arriving at the Boracay Airport in Caticlan, has to pay 50 Pesos for a Tricycle which takes you in a few minutes to the Caticlan Jetty Port. About 2 or 3 Europeans or up to ten Filipinos can find a seat in one of this vehicles.
When arriving at the Jetty Port, you will be confronted with the full power of Philippine bureaucracy:
At three different counters outside of the building, you have to buy three different tickets, which will later be devalued by at least three different people inside the building, before you are allowed to board one of the boats to Boracay. Prices here are updated in December 2015:
Counter 1: Boat ticket and Boarding Pass: 25 Peso
Counter 2: Environmental & Admission Fee: 75 Peso
Counter 3: Terminal Fee: 100 Peso
Before entering the building, you will also have to undergo a Security Check like on an airport. All your luggage will be X-rayed and every person will be checked for weapons or other dangerous items.
The boat trip to the Jetty Terminal on Boracay takes only about 15 minutes.
On arrival, once again Tricycles are waiting to bring the tourists to their hotels. The price for a "Special Ride" here is 150 Peso for the 20 minutes trip to any hotel on White Beach.
All in all, it costs you 350 Peso to get from the airport to your hotel on Boracay.
If you have to make your transfer to or from Kalibo Airport however, the vans waiting outside the jetty terminal in Caticlan asking 175 to 200 Peso per passenger. Renting the whole van costs about 2000 Peso. Metered taxis and bigger buses are also available.
You may also book a "Transfer package" together with your airline ticket. In December 2015 I paid 450 Peso for a one way tranfer from Kalibo Airport all the way to the hotel on boracay. The booking was made via Cebu Paccific. The company who made the transfer however, wanted 650 Peso for the return package but there are cheaper packages available. Just ask at your hotel.
If your flight was diverted from Caticlan to Kalibo, the airline will provide a free transfer to or from Caticlan.