According to an order of the Philippine president on 04.04.2018, the whole island of Boracay for tourism should be closed for 6 months. The order should come into force on April 26, 2018.
This is going to be a challenge for all business people on Boracay, the tourists who want to go there and the airlines, who now have to cancel more than 100 flights a day.
How could this happen?
The island of Boracay was last hopeless overcrowded during the main season. Thousands of tourists, most recently from Asia (China & Korea) cavorted for sunset on White Beach. But even during the day, the beach was more than well filled.
I had already noticed that on my last visit last December, although it was not that bad by that time. It is clear that the island was hopelessly overloaded. This was reflected not least in the daily generated mountains of garbage and sewage, with which the island and its infrastructure had to cope.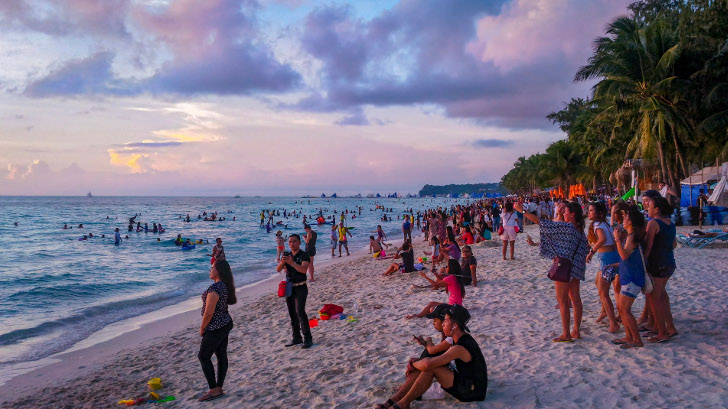 Thousands of tourists gather in the evening at White Beach on Boracay to watch the sunset. December 2017
Then it turned out that some of the hotel facilities obviously did not have the prescribed septic tanks and had discharged their wastewater directly into the ground or into the sea. The president himself called the island a "cloaca."
The hotels were then given a deadline for abolishing the adverse conditions in accordance with the regulations. The proposal to close the island completely came from three different government departments: the Ministry of the Interior, the Department of Tourism and the Department of the Environment and Natural Resources.
Meanwhile, the president promised Boracay residents affected by the closure to support them with funds from a disaster fund. First of all, everything that I could quickly get to know. If there is something new, I will report it here.